THE TECH DIARY: Reliability
Formula 1 Director of Data Systems | Total Karting Motorsport - Founder
The team, customers and drivers of Total Karting have embarked on a journey with me in developing new race kart technology towards a faster, fairer, cheaper and cleaner motorsport. To keep you informed, I'd like to introduce to you a series of updates from our team of engineers, that will give you a behind-the-scenes look at the brilliant technical progress being made.
To open the series, I wanted to focus on some of the reliability aspects of the e-karts as I know that this is of interest to our customers and drivers, but more so to myself and my team. The background here is important; those of you that have been with us since the start of this journey are aware that my aim is to revolutionise the grassroots of the sport, by breaking down the barriers to entry and getting more families involved in this brilliant sport. We want to make this a sport for everyone. We can only do that by attacking head-on those barriers to entry: cost, complexity and parity of equipment. On the latter objective, the most readily available technology is Electric and we therefore have begun our journey on the basis of EV propulsion.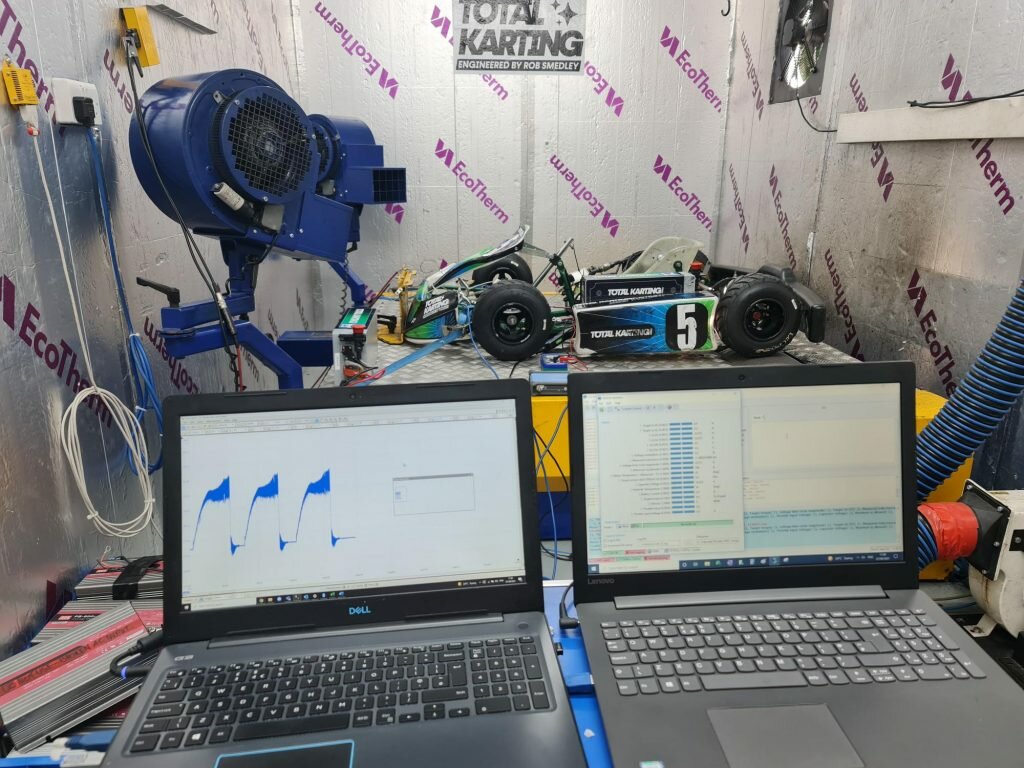 Image: Total Karting Zero e-kart on the team dynamometer with laptops showing data collected from the test.
 It is important to recognise that we are discussing racing karts here. They are designed and built for speed and performance, in order to develop and hone the skills of drivers. It would be easy to add less performance to ensure better reliability out of the box (more weight or less overall motor power output) but it wouldn't be truly meeting the targets we have set ourselves of a competitive racing kart. When we consider the often conflicting parameters (minimising weight, maximising power, extending run time, not exceeding 60 Volts max., maximising system safety, etc.) the balance is fine and is no different in fact to designing a Formula 1 car. We, engineers, are constantly challenged with finding the optimal compromise, but it is this that makes our work so interesting.
The biggest challenge we have faced as a group of engineers lies in understanding and perfecting the Control System. This is effectively the brain of the kart and dictates how each of the principal drivetrain components communicate with each other, across the almost infinite number of possible input scenarios. As with designing a new F1 car it is important that we try and understand each scenario (for example, how the driver approaches a high speed corner, braking and lifting for a low speed corner, race starts, etc) and then ensure that we have written robust enough software that the kart behaves safely and predictably in all situations. Note that our highest priority in all the conflicting objectives is safety; if the Control System encounters a scenario we have not yet considered the karts will shut down. This is absolutely the safest option and as much as we love giving our young drivers high performance, electric racing karts which are built to hone their skills, their safety takes precedent over everything else.
Image: Example of a simulation recreating laps of the e-kart on a race circuit.
In order to accelerate our development for what is relatively ground breaking technology (very low voltage for safety which is still able to offer power and, mass equivalent to the petrol counterparts) we are continuing to invest in simulation technology and indoor test facilities. We are in a unique position of having some excellent F1 engineering talent now fully embedded within the TK-Z team and we are using that to change the face of grassroots racing. It is not normal that engineers and scientists of such a high quality (and demand) step back into grassroots karting and decide to apply their talents at that level – it is an honour for me to be able to work in such a talented team. As said, we are using this brain power in the development of simulation software and analytics – the type of which is never seen outside of only the highest levels of motorsports such as F1; we now have this deployed within our Technology group to ensure we are constantly developing and improving the product. We are mid way through the Generation 1.5 karts and we have already started initial simulations and specification of the Generation 2.0. The quest for excellence will never stop. 
Keep your eye out on our website and LinkedIn for more insight into the levels of engineering that is going into developing this new form of grassroots racing. Myself and the team will be publishing some technical blogs that will offer more detail into the numerous technical challenges and elements discussed here. Hopefully these will be insightful, educational and entertaining whilst also giving a glimpse into the amount of effort, brainpower and technology that is going into making racing faster, fairer, cheaper and cleaner.
Of course, the final piece in the development jigsaw is the track testing and racing events. Those of you that are involved in our UK TK-Z series all play an incredibly important part and are 100% crucial to the journey we are on. Only by running these karts in full competition spec can we gather the data and information we need to ensure we are moving quickly through our "Continuous Improvement" trajectory. Thank you so much for your invaluable input! 
Best, Rob
Rob holds more than 20 years of Formula 1 (F1) motor racing experience, ranging from Race engineering cars to running F1 operational departments. Rob founded Total Karting Zero (part of the Smedley Group) in 2019 in an effort to bring more young talent to motorsport through grassroots, opening the sport we love to a wider range of families by making kart racing more accessible.
Author: Total Karting Motorsport | Technology Team
… All Electric Vehicles are composed of a battery, a control system, a motor and a cooling system. The battery is a common way to call what is in reality one or …
Want to be informed when the next Tech Diary post is out? Subscribe below: